2% Chance of Survival Meets 200% Strength & Determination!
---
On December 29, 2020, we had a scheduled c-section. Oakley was not expected to survive because his diagnosis was considered incompatible with life. He had a large omphalocele, scoliosis, a missing leg, a club foot, and only a 2% chance of survival. After he was born, he was brought to the NICU and we were transferred to Ronald McDonald House in London, right beside the hospital. He kept thriving, doing better and better, continuing to show everyone how strong-willed he was.
It was tough, especially during Covid, because we couldn't go in to see Oakley together. While one of us would go back to visit him in the NICU, the other was at Ronald McDonald House. We never knew which parent would be the one to go in and have to say goodbye. Thankfully, saying goodbye was not the case and instead, he ended up fighting hard enough to come home with us! Having Ronald McDonald House so close to the hospital meant one of us was able to get rest while the other parent was with Oakley. We felt peace knowing we were only a few steps away from our little boy when we couldn't be in the room with him.
A memory we held onto is when the staff brought us a welcome bag with some toys and a blanket for our little boy. Also, we got to Ronald McDonald House on New Year's Eve and they left us a little treat bag to bring in the new year which was super sweet. We will always remember all the friendly faces that we saw while we were staying there.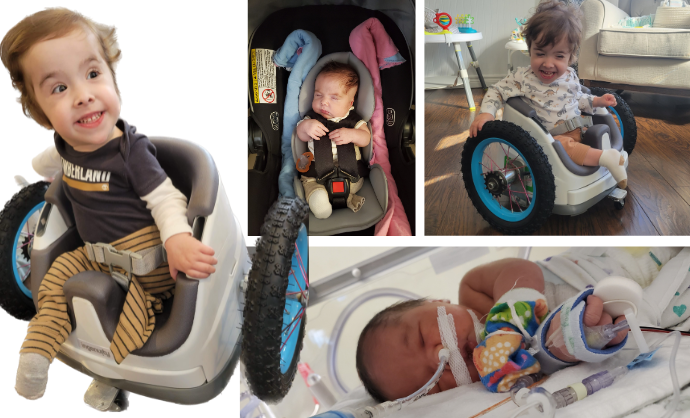 Going home after 22 nights was the best and scariest day. We didn't think we would be able to bring Oakley home so when we got the news that we could bring him home we were in shock. It was hard to believe that it was really happening. We may have been scared of the new life we were caring for and what his challenges would be but bringing him home was still the best day.
RMHC was truly a "home-away-from-home". Everyone was super friendly and made us feel so welcome. There was a sense of comfort when walking through those doors. It was also nice to have our own private room and have access to the laundry facility and kitchen as we needed.
Our experience at the RMHC was amazing. The staff and volunteers (and the fresh baked goodies!) were great, and breakfast was always ready with a delicious dinner awaiting us every night after coming back from Oakley's hospital room. Although no one wants their child in the hospital, if you are in that situation, having Ronald McDonald House means you have a place to feel at home.